DO YOU GROW, MAKE, OR HAVE SOMETHING TO SELL AT THE FARMERS' MARKET?
This May Just Be The Place For You!
The Market is an open-air environment in historic downtown Canal Winchester. We're open to all vendors with your usual exception of no live animal sales, no concession stands or flea market item sales. Produce, crafts, food, retail, and fundraisers are acceptable.

Ohio Department of Agriculture rules on Cottage Food products. Product labeling for cottage foods is extremely important! Make sure your labels match the ODA example. Please call us at (614)270-5053 if you are unsure if your items will qualify.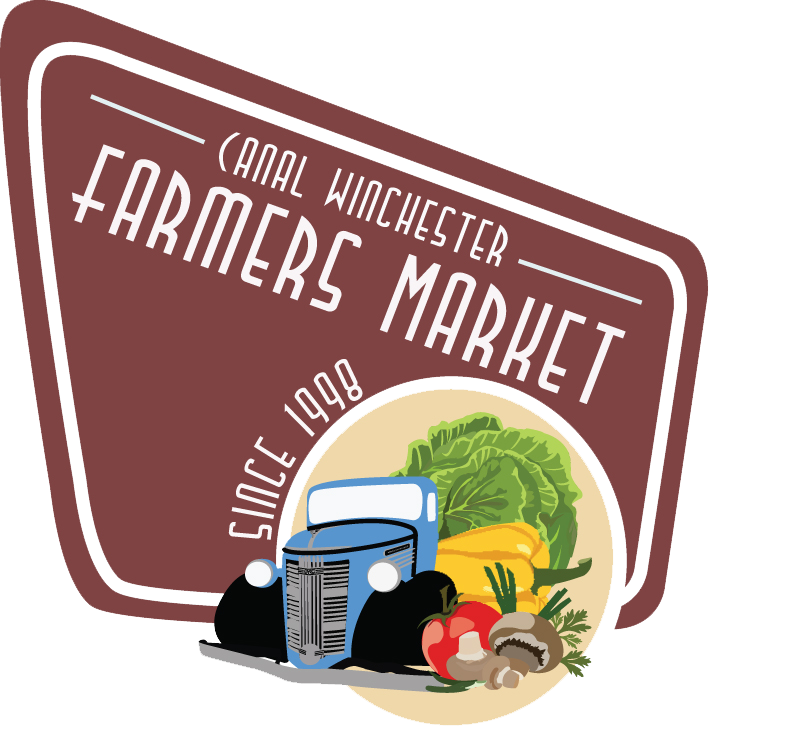 After a once-per-season registration fee of $10, our "best value" season rate is still only $175! You may pay for individual Saturdays with spacing fees of $20 per market day. 2023 vendor application including rules & regulations. Please print, complete, and return to the address indicated along with payment.
The following is a list of the 2023 vendors who have registered with the Market Manager to date. This list grows throughout the season and is subject to change on any given date. Please understand that not all listed vendors are able to set up on all market days. You may want to confirm any availability of a specific vendor in advance by contacting that vendor directly.
2ND CHILDHOOD FARMS
produce and baked goods
A'DEMARCO & CO.
dry rubs and brine kits
ALLISON'S CHALLAH BREAD
Challah bread in a variety of flavors
BENNERS' BACKYARD HARVEST
produce
B N B BAKERY
baked goods/breads
CAROLYN SITTLER
felt art, hand crafted fabric baskets
CAWSOME CITY MICROGREENS
living microgreens
CURLY DOG COFFEE
whole bean & ground coffee, Curly Dog shirts, mugs and tumblers
FIND HOPE FARMS
goat milk soap


GINGER SIGNS AND DESIGNS
handcrafted door signs, wristlets, etc
HEAVENLY TREATS
produce and baked goods
JAMES SIMS
author of children's books
JULES JAMS
fresh jams
KING'S FARMS
produce and baked goods
MAG-SUN
jewelry and mixed media items
NC DESIGNS
wine glasses, tumblers, cold cups, key chains
NORA JAYNE
Hair accessories, market bags
NOTHING BUNDT CAKE
Bundt cakes in a variety of flavors
PORTER'S COFFEE TRUCK
RISING SUN COFFEE TRUCK
ROLLING POTTERY
handcrafted pottery
RUEBEN MARTINEZ
3D Printed Novelty
SCHMIDTS HOSPITALITY TRUCK
Schmidts food
SIMPLE TRINITY
candles, soaps, t-shirts
THE PLAID BOW
(Dog is Good) shirts, tumblers, dog treats, dog collars
THROUGH THE VALLEY TRADING CO.
leather goods, cut flowers, canvas bags
WILD CAT RIDGE
beef, chicken, sausage, pork, eggs
WILDLY GROWN
Hanging planters and potted plants
WILD SOUL CANDLES
candles, wax melts
YELLOWOOD FARMS
fresh flowers