DO YOU GROW, MAKE, OR HAVE SOMETHING TO SELL AT THE FARMERS' MARKET?
This May Just Be The Place For You!
The Market is an open-air environment in historic downtown Canal Winchester. We're open to all vendors with your usual exception of no live animal sales, no concession stands or flea market item sales. Produce, crafts, food, retail, and fundraisers are acceptable.

Ohio Department of Agriculture rules on Cottage Food products. Product labeling for cottage foods is extremely important! Make sure your labels match the ODA example. Please call us at (614)270-5053 if you are unsure if your items will qualify.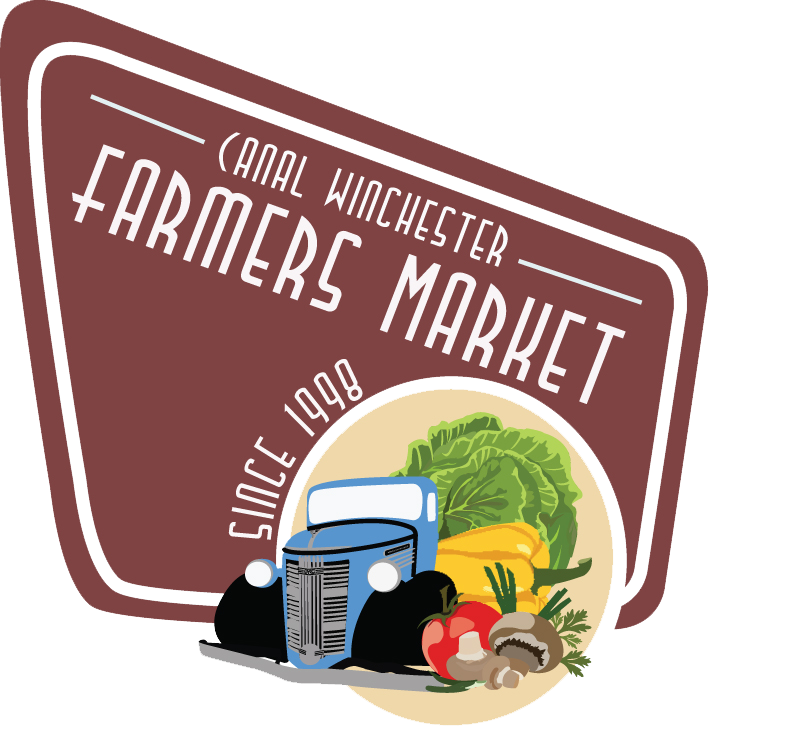 After a once-per-season registration fee of $10, our "best value" season rate is still only $175! You may pay for individual Saturdays with spacing fees of $20 per market day. 2023 vendor application including rules & regulations. Please print, complete, and return to the address indicated along with payment.
The following is a list of the 2022 vendors who have registered with the Market Manager to date. This list grows throughout the season and is subject to change on any given date. Please understand that not all listed vendors are able to set up on all market days. You may want to confirm any availability of a specific vendor in advance by contacting that vendor directly.
2ND CHILDHOOD FARM
fresh produce and baked goods
A. DEMARCO & CO
dry spice rubs & brine kits
AMBER BOISEN
beautiful art
ANGRY DAD'S JERKY
Beef Jerky
B N B BAKERY
fresh baked cookies, cake pops, breads and other treats
ALLISON'S CHALLA BREAD
Challa bread in a variety of flavors
DEANA MEUSER
chocolate pretzels, hot chocolate bombs, home decor
DOG IS GOOD
Shirts, hoodies, hats, magnets and other hand made dog lover items
ESSENCE OF COLOR
details coming soon!
GINGER DESIGNS
hand crafted earrings and jewelry products
HARVEST GOLD HONEY & EGGS
local honey and honey products, fresh eggs
HEAVENLY TREATS
fresh produce and baked goods
JULES JAMS
home made jams and jellies
KING'S FARM
flower and vegetable plants, fresh produce
MAG-SUN
paintings, ornaments, ceramics and hand crafted jewelry
MAUGERS' MINI DONUTS
cinnamon/sugared donuts
N C DESIGNS
hand designed tumblers, cold cups, wine glasses, etc
PAWSON TREATS
homemade dog treats and pet products
RISING SUN COFFEE
coffee drinks, hot chocolate, tea, bags of coffee
SIMPLE TRINITY CLOTHING, LLC
decorated apparel, hand poured virgin coconut wax candles and melts, hand crafted soaps
SZAGORSKI'S PEPPERS
sweet, mild and hot pickled peppers
WILDCAT RIDGE FARM
local pasture-raised beef, pork, chicken; free-range brown eggs; saltwater shrimp (pre-order); spices and rubs under our name. seasonal produce.
WILD SOUL CANDLE CO.
hand poured soy candles and melts